Commercial & Industrial Pest Control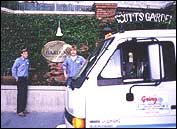 The same bothersome pest problems that can cause concerns for your home and garden can also result in pest problems in your office, industrial, or commercial space.

Although the application techniques are similar, precautions are put in place to protect your employees. The hours that your facility is open for business are taken into consideration because of the varying types of techniques that are used. These are different from the ones utilized in domestic home applications. Gring always takes the utmost care and is dedicated to safety for all those involved.

We will always make sure to draw up a customized program for any possible situation that our clients may experience.