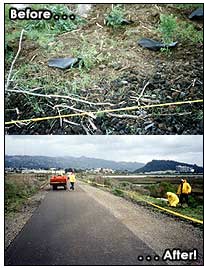 The same pests that inhabit your home frequently target your garden and outdoor living space, also causing difficulties for your plants, lawn and trees are specific types of pests, disease, and fungus-related problems. You also have the possibility of deer, raccoons, foxes, rabbits, squirrels, snails, coyotes, birds, and rats. Nature has its way of providing a host of other sources, which can turn into pests that need to be controlled.
Landscape pest control involves using
structural
,
exclusion
, and
chemical
means to control these areas of concern. Because of our many years of experience and expertise, Gring is one the Bay Area's best resources for eliminating any major pest problems.
An important aspect of landscape pest control is vegetation management. Gring can provide specific recommendations for weed control; erosion control; land clearing and grading based individually for our client's needs.