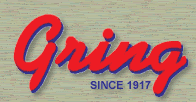 About Us



Gring Pest Control has been a Bay Area fixture since 1917. Our specialty has been providing residential, commercial and industrial pest control, landscaping services, tree spraying, and weed abatement. We are committed to providing quality customer service that exceeds your expectations. Our success can be directly attributed to our policy of responding to your pest control needs either the same day or the next working day.

With the advent of our new web site we are stepping up our commitment to quality customer service. Whether you reach us by e-mail or call us toll free at 800-537-3801, your inquiry will be handled by industry seasoned professionals who are knowledgeable and dedicated to helping with your pest control or landscaping needs.

Our experienced technicians regularly participate in extensive training sessions. They are equipped with the latest technology and equipment, and above all, environmentally safe materials with which to solve your pest problems. Each of our diversified management team specializes in an area or areas of pest control. Experience plus a commitment to excellence provides a quality service to our customers.